Doors are our security access and quite a very important piece in any building because it allows you sleep at night knowing that not everyone is able to get access to your building except you let them.
In the furniture world, Doors are classified based on different features such as Location which could either be interior doors or exterior doors. It can also be classified based on the materials used to make it e.g. wood, glass, PVC etc.
It can be classified Based on construction, door shutter and arrangements of door components. But their functions are still the same, for the purpose "ACCESS".
It is just that some are stronger than the other, some are durable that the other and some look beautiful and fancier than the other. In this article, we will be looking at 15 types of home and office doors starting with:
Panel door
Panel door are the most commonly used doors used inside houses and they come in different styles and forms with its unique beauty that's pleasing to the eyes.
There are various designs but are often labour intensive with a very skilled workforce (you have to hire someone that knows their way around making this type of doors). They are one of the strongest doors we have in the market today.
The frame for the door is constructed from wood or metals like steel, while the shutter panels are made from materials like wood, tough board, plywood, block board, glass, veneer etc.
Different types of styles can be made on the panels, thereby making the doors rather ornamental. In some cases, some of the doors remain in wood panel while other parts are made from glass panels.
The door is often referred to as gazed and paneled. The style could be made according to the requirement of the client and the area in the home
Metal/ steels have been over time been put into use when it comes to several aspects of home construction because of its strength and its effectiveness, so it is not strange that it has been incorporated into interior work.
They are good for indoor and outdoor doors making it a good alternative to wood and can be used in making most door frames but they are popular in homes and areas because they are very economical than traditional wooden frames.
They can be made in high quality in cold rolled moderate steel, the shutters can be constructed of MS (MILD STEEL sheets), riveted or bonded to a frame of channel area, perfectly braced.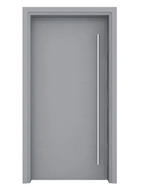 The frames are made out to look like angles, channels or tee. These types of doors can either be hollow or strong making them perfect for homes or offices that have high security caution since they are not easy to break or open like wood. Steel doors are accurately crafted and they often require minimum maintenance.
PVC (Poly Vinyl Chloride), is a very essentially plastic material that is being used frequently for making so many plastic products which includes pipelines, water tanks, fittings, modern windows etc. Today, they are also used to make doors for homes which can also be used in offices too.
But they cannot be used for entry doors because of their light weight, inability to withstand ecological conditions and they hardly withstand weather changes when outside.
This type of door is not security cautious, so if you are restricting access to something very valuable, then it might be too light to withstand pressure of security.
It also has the advantage of being water and termite resistant, lightweight, easy to fix, resilient and sometimes can also be anti-destructive. The components of this door makes it easy and simple to produce and setup in homes.
In shopping for doors, PVC doors have proven to be cost-effective as compared to wood doors. It can also be used in making doors for your homes and offices, coming in different types of styles and wide range of colours.
Flush doors are extremely smooth doors mostly used in the interior part of homes which have either medium density fibreboard or plywood repaired over wood frame which is very light.
The frames for this type of doors can constructed from wood or steel and be made in any standard way, some of them can be utilized outdoors of homes.
They can be used in toilets and baths but the inner face of the door need to be covered with aluminum sheets for the purpose of security and water. The doors are hinged at one side to allow the door open.
They can be supplied in homes due to the economical nature, always available in our Nigerian markets, beautiful and resilient.
Battened and Ledged Door Type
These types of doors have been in use for a very long time and has not gone out of fashion, it is used now especially in homes where economy is a factor to put into consideration.
Battened and ledged doors are 35mm by density and they include vertical wood battens of height of the door. Battened and ledged doors can be either braced and framed or braced to give them a level of strength and a better appearance.
The 3 ledges which are horizontal members are supplied one on the top and bottom, and another one in the middle. They are used mostly for WC, toilets, baths, and rooms.
Bamboo doors are obviously made from bamboo which is barely a wood. The jute-coir composite board can be used for the manufacturing and production of doors.
It is often used in place of wood and used for local houses doors. These bamboo-jute composite doors are resistant to water, termite, rust, they are environmentally friendly, bio-degradable and not very expensive.
Glass used to be only used for windows and as time changed, it began to be used for home doors according to owners request in particular areas of the home, most especially office doors.
Before considering this type of door in your house, you must think of safety if you'll be having children around. It is beautiful to have in the home, most especially behind your home, it gives you a clear view of your backyard or your garden area.
It is always advisable to avoid these types of doors in your office or homes as front doors (even though they can be gorgeous for front doors) because if you like your privacy this type of door grants unlimited access for people on the other side of the door to get unlimited view.
They are usually heavier than other doors, quite costly and maintenance takes more effort. Glass doors can also be used in your toilet/bathroom to demarcate each other.
Aluminum is a material that has been used over the years for quite a number of things e.g. drape walls, windows, partitions Etc. Aluminium can be used for doors and their frames have the unique advantage of withstanding challenging ecological conditions.
Aluminum frames last longer and are not easily attacked by termites. Doors made from aluminum can be used for outdoor and indoor doors.
Wooden or Timber Door Type
Typically, wood or timber are the oldest materials used in the manufacture of doors and windows and are the most used in house construction here in Nigeria and outside Nigeria.
It is easily accessible here in Nigeria because of our gift of good soil for tree cultivation and several rain forest unlike some regions who have to import. Regardless, we are still limited to some species of woods for doors and have to import.
The choice of wood that should be used for every door should be based on the residential or the commercial properties of durability. They can be used outdoor and indoor but best positioned outdoor (your front door).
Its cost depends on the type of wood that is being used because they vary in prices, some are less expensive than the other. It needs to be maintained from time to time at a low cost.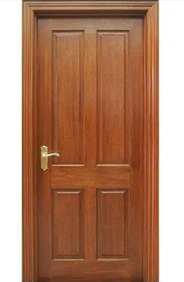 Fiberglass Door Type
Fiberglass is one of the strongest products with little need for maintenance as compared to the amount of time and money you spend maintaining wood and performs better under weather or climate changes.
It can be produced to look exactly like wood. Doors constructed out of fiberglass can be offered along with wood panels on the top surface to give it a more appealing look.
Fibre Reinforced Plastic (FRP) Door
Fibre reinforced Plastic (FRP) door is a multi-usage friendly door. Because of its high strength, it can be put into various uses. FRP are available in different types of colours and surfaces.
Sliding Doors
Sliding doors are likened to bypass doors and are generally used for places which includes large opening like our closets or bedrooms. To open them, you have to move them along a track with the aid of steel rollers (helps the sliding door move along a track and is fixed at the bottom and top of the door) instead of swinging them open like other regular doors.
Just a part of the opening is easily accessible at a time. Sliding doors components are steel shutter which the steel rollers are fixed and wood. Most industries, workshops and garage owners go for this kind of doors because it can be built to be wide enough to accommodate large things.
Offices have began to incorporate this type of doors into their buildings now, especially if it is a congested work space. It would help to save space and increase efficiency of usage.
Folding Doors
Folding doors are more often used in room opening to garden, patios and veranda etc. it is a type of door that opens by folding back in sections. They are also known as BI-FOLD doors. Its unique features allows it to be used both for indoor and outdoor.
Revolving doors
The name was gotten from the look and function of the door. The door is designed to rotate about a central pivot consisting of three or four doors. It is best used for large organization front doors to regulate entry e.g.
Law firms, high rise buildings, hospitals, public buildings etc. It is preferred in places like these because it has the ability to minimize the entry of external noises and avoid heat loss. They are energy efficient.
Aluminum doors
Aluminum doors that has glass panel are very common when it comes to commercial applications. They often very strong and durable. Because of their strength, they are used as a security door.
With the full aluminum panel, their look may not be as appearing as others. Has any of these doors caught your attention for that building project or renovation you want to do? Then head straight and contact us Lebanon Cedars and let us give you your desired door in grand style.