Shelves is very important in Office and Home as you always have items that needs to be stored in order to maintain cleanliness. Every work place also has a large storage need, especially offices that handles large paper works.
One could opt for cabinets and closets, but they take a lot of spaces and can be very expensive to install. One way storage has been made easy is through SHELVING, so shelving is very important.
Most people go for mobile and archive shelving (it comprises of racks that are divided into different compartments which make it very easy to organize and retrieve for quick use) as the best options for workplace environment.
It's very paramount to go for shelving that works best for your storage need and therefore give you enough space to function. One very hard decision most people have ever had to do when it comes to furniture choosing is on the issue of SHELVES selection.
As easy as it may look, you may be left with a thousand and one option and still unable to make your decision. That is why it is best to get familiar with your shelves, their functions, their forms, their uses, along with the pros and cons that comes with it before making your picks.
There is nothing like having an organized space either for your office or your home. These are two places you have to entertain guests both for visits and official purposes, so you don't want to leave it full of clutters. There are different varieties of shelves to choose from which we will be exploring in this article.
The best decision you can ever make, is getting quality materials for your shelves. You will be doing yourself a huge favour and also enjoy the money spent because they will last long.
Different home and offices have their various designs, or even safety measures and so if you want to pick a shelf by material, be sure its one you can manage. For example, having a glass shelves in the home will require extra caution, especially where there are kids. There are four common materials used in making shelves which are:
Metals
Metal are a very a great material to use to make shelves. Most times, people avoid this material due to its high risk in rusting.
Glass
Except whatever you want to put in storage is light, you should never go for this type of material. Glass shelves always have the fancy and elegant look but can easily break if extra caution is not taken.
For the sake of children in the home, this type of material is not advisable to avoid large accidents as a result of carelessness. If you are thinking of using glass material for your office shelves, then you are on the right track. It will give your office the spice of beauty is deserves but beware of the type of item that is kept on them.
Plastic
Plastics are great materials that can be used in making shelves but beware of being cheated into using cheap plastics because with time, they tend to break and will end up damaging whatever is kept on them.
Wood
Woods are great materials to use for any type of furniture. Wood is one of the oldest material used in furniture making because of its durability and easy access depending on the type of wood you are going for. Whatever you do, do not go for pressed wood, they can be very costly and when damaged, are hard to replace. The advantages of using wood in shelf making are:
Wood are strong and are durable
They are very easy to maintain
It can be modified at anytime
It has a way of bringing out the design in any furniture work.
The value of wood varies.
There are cheaper materials to opt for like:
Coated chipboard: when you go for coated chipboard, choose the 15mm board for light items and 18mm if you are using it for heavy items.
MDF (MEDIUM-DENSITY FIBREBOARD): they are very easy to work with and it is also easy to paint.
SHELVING RULE
Just like any other furniture that, picking shelves comes with its own sets of rules.
You must first consider if you are purchasing the shelf for storage of style/decoration
You have to decide where you will be putting your shelf
Decide the type of material strong enough for the purpose it will be serving, either in the home or in the office.
Choose the shelf that can fit capacity and it needs to be in the right area, to avoid issues.
You have to choose the right size.
If you have a very small space, then you should make sure you either go for the wall shelves. If you still decide to go for the floor shelves, the you must make sure they do not take all the space.
How convenient is the choice you made? If it is going to cause you inconvenience, then it is advisable for you to pick the one that makes you feel at ease.
There are various Types of shelves like:
Adjustable shelves
This is one of the most convenient and common form of shelve. It is usually made according to the specification and request of the owner. It is usually requested when the use of the shelves has not yet been ascertained. With the special way it is constructed, it is therefore easy to adjust /reconfigure based on the present storage need (size and height) the adjustable shelve are attached to the closet panels through the aid of movable bracket.
This is a two in one shelf unit which serves as both storage and interior decoration. Some homes and offices are just too small and can barely accommodate storage but in this case, the best type of shelf that would do the trick is the floating shelf.
It is made of engineered wood which gives it a refined and fancier finish. They are held by a bracket which is mounted between them. This shelf is assembled by internal screws, brackets and nails that helps to hold the racks together which are used to fix the unit on the wall.
It is in fact one of the most beautiful, stylish shelf designs we have in furniture making where you see a lot of shapes and styles. They are very similar to suspended shelves but it's quite different.
In other similar types of shelves like the suspense shelves and the fixed bracket shelves, the nails and screws which are used in attaching the shelf to the wall surface is clearly visible while the floating shelf has its fixing equipment hidden from bare eyes to make it look like it is really floating in the air. They are available in varieties of style, colours and most importantly different sizes.
These are shelves that have ample amount of storage spaces. It is a very simple type of shelf but helps you keep your space clutter free. It is specially built to fit indented walls. The dimensions cannot exceed the width or depth of the recess in the wall
This is a very fancy design but only to be used for homes. Except you don't want to use it for storage and just for decoration. Unlike other designs of shelves that come in flat pieces, they are cylindrical shaped.
Because of how they look, you can only use them to store small items. Some come in sizes that are able to hold wine bottles. They come in different sizes and comes in different combinations.
The book shelf is specifically built for the purpose of holding books. It comes in a vintage look and visible details on them. This type of shelf can be seen in offices that deals with a lot of researches, libraries, school offices, study rooms, law firms, banks, church offices and children room etc. so it is very popular for its usefulness.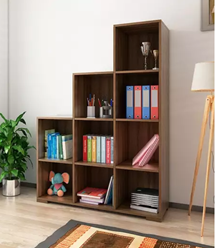 There is nothing that that screams work of art like the type shelf. It is no doubt one of the most beautiful piece of furniture we have out there. It comes mostly in punched-metal piece, made of Stainless Steel but comes in different designs has evolved from a limited amount of styles to varieties so you could explore from the numerous.
Wood has advanced that it can be used for this type of shelf design. Type shelf helps you to carve into the shelf with whatever symbol you would have on it. For your home, you could carve your children's names, family's crest, a significant date etc. and for your office, you could carve in your company's name, symbol, company's logo or department symbol. It features 2d cut letters.
They are called statements and gives a perfect design for your space while still holding items on them. The best colour to go for is black, this is because no matter where black is, it always finds its way to stand out but it is easy for other colours to blend into the designs already on the wall.
Twisted wall system for corners
Have you ever seen a zigzag line or a spiral line? This is a type of shelf that has a zigzag style that fits the corner of the room. If you are trying to manage space, then this is just the shelf for you. you don't have to necessarily fix it at the corner, except you are short of space. It can hold books, picture frames and some decors.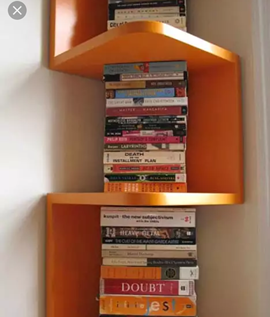 The wow shelf is not for official work. But is for offices who make use of small paper works. It is built with small spaces that can only accommodate little paper. It was included in the list because of school offices, child psychologist offices and any type of office that accommodates children. It has a fun look and comes in very bright colours to draw the attention of children while still holding useful materials.
Don't use this type of shelf for anywhere except the kids' rooms or in the office of a child psychologist for child attraction. It is shaped in form of a cloud and hold just few items.
With shelves, you should be rest assured that you will have a clutter free space. It is very professional to have a room where you can move around freely and work without interruption.
It is also very accommodating when you can move around in your home without bumping into something, the shelf is there to help you make your space your own. Whether you go for the expensive or not so expensive material, it is important to work with what lasts, to avoid casualties when you begin to make use of them.
Have you been thinking of where to get quality Shelves with a friendly cost? Then Lebanon Cedars Furniture is the best company that can provide that for you. You can check Lebanon Cedars Furniture workshop here.
What do you think about this different Shelves? Is there anything you want to add or you have something bothering your mind? Please, make use of the comment box below and let's know what you think