When we talk about office furniture design, there are a lot that can come to mind such as the chairs to desk and many more. Whether you work in a private or a public office, you still need to make your office look welcoming.
The office furniture and its unique designs are important parts of office management and the numerous activities that would be carried out within the office space.
Every employee working in an office environment has to be given adequate resources to function, along with comfortable furniture which would enable them deliver their best while feeling motivated to carry out various duties.
Without the right furniture around, there is usually low rate of productivity and high risk of stress. The furniture designs has a way of giving identity to the office, making it look attractive for the visitors and the occupants and the type of work that is carried out in the office.
The right sets of furniture has a way of building publicity due to the admiration of the beautifully set-up furniture set. Just like when you walk into a law firm, the furniture would tell you it's a law firm, likewise when you walk into a school principal's office, the furniture and materials would introduce them (this is called Brand credibility.
Desk, chairs, paper organizers, visitors' sofas, cabinets, shelves, etc. are the most popular furniture we find in the office.
Office furniture are very important because with the right set
There is decrease in the amount of stress that would be accumulated.
There is room for proper document and file storage.
High work efficiency
There is room for operation
Selecting the right type of office furniture design have be quite demanding, that is why we are here to put you through in picking the best furniture design for your office.
OFFICE DESK
Desks are very important parts of office furniture and their designs may vary. Some may refer it to a table because it functions as one but the only difference is that it comes with compartments and drawers for storage.
So many activities of the office can be carried out on it such as computer operations, reading writing and deal closures. They are made in different types of materials like glass, different types of woods depending of the durability, metals etc.
some designs have the chairs built in together, while some are built apart, depending on the type of office you are running.
There are various types of desk designs for our offices such as:
EXECUTIVE DESK
CREDENZA DESK
COMPUTER DESK
CORNER DESK
SECRETARY DESK
DESK ON FRAME
PARTNERS DESK
CUBICLE DESK
GREY WOOD DESK
STANDING DESK
RECEPTION DESK
U-SHAPED DESK
OPEN SPACE DESK
GLASS OFFICE DESK
DRAWER AND KEYBOARD TRAY DESK
If you would be picking from any of these desks, make sure you go for the one that looks best for your room and is most comfortable for you.
BOOKCASES
Bookcase or bookshelf is a very important furniture in any large or big organization where they have to deal with lots of books like public and private libraries, bookstores, magazine stores, private homes and offices.
It becomes tacky when everywhere you look, a book is hanging from the corner and when you have to look for an important book then you have to start going through the scattered books.
Bookcase is one piece of furniture that helps you get as organized as possible. The office bookcase or bookshelf is solely dedicated to your office books or journals.
This piece of furniture has horizontal shelves which is often in a cabinet. They come in different sizes and different heights, some can be the height of a regular table and some can be as tall as the ceiling.
Some of these shelves are easily adjustable to different positions. Some bookcases have doors to protect its contents from spoilage (some of these doors are glass, wooden, metal; depending on the type of material the bookcase is made from but it is best to go for the glass doors to allow reading and identifying contents very easy).
Some bookcases are built apart and some of them are made to stand on other piece of furniture like desks. The books are either arranged horizontally are made to lay flat on wide shelves depending on their sizes.
WALL SHELVES
Wall shelves are simple storage spaces to hold light items in the office. It can be attached to the wall permanently. They are designed not only to hold books or big folders but also could be used to display some interior decors and ornaments like little flower vases, picture frames and clocks.
But it can only carry a limited weight, to avoid it collapsing. Times have evolved so we have so many designs of wall shelves where we have some compartments built some inches away from each other in different styles, different shapes, different sizes and different forms.
They do not particularly take any unnecessary space because they only occupy wall spaces. Examples of wall shelves are:
Cylindrical wall shelves: this design is not really advisable to be used in the office because of the shape it comes in and their sizes are not necessarily big. Except you only want to enjoy the design of this type of wall shelve, it is not the best for office space.
Book shelf
Type shelf: this is one of the most beautiful type of shelf that comes mostly in punched-metal piece, made of Stainless Steel but designs have gone from one type to varieties so you could explore your options in terms of using wood.
Wood sometimes gives the carvings great details of the designs you have pictured in your mind. It is built to forms words, letters or even numbers and still hold the items you place on them.
These words could have the company's name or even the company's symbol. This type of shelve can be folded or even flipped at will. The best colour to use for this type of shelf is black which could fit into any wall paint.
Some would prefer to use White but sometimes, white might disappear into the brightness of some wall paints that is why black is most times preferable.
Twisted wall system for corners: this type of shelf can be used in any type of office but those with small spaces. It can fit into any space in the office but it mostly best fits the corner of the office. It can hold books, picture frames and few office decors.
The WOW shelf: this is not a very official type of shelf because of the little work it is able to do for office spaces. It was included in the list because of school offices, child psychologist offices and any type of office that accommodates children.
It has a fun look and comes in very bright colours to draw the attention of children while still holding useful materials.
PAPER ORGANIZER
Does your office engage in numerous paper works that have to be reviewed multiple times without having a mix up from time to time? Paper organizer is here to the rescue.
They don't necessarily have to be boring. They are made from different types of material like metals, wood, plastic and wood. The paper organizer is usually placed on the office desk to have quick and easy access to your folders or papers and also comes with trays depending on your specifications and how many paper work you do.
Some have 2,3,4,5 or even six trays. They don't necessarily protect the papers but they just help you organize them until they are ready to be filed.
There are numerous colours to explore here but bright colours are just the best, it makes the paper organizer stand out from all other things on the office desk.
CABINETS
Cabinets are very important furniture for storage which has enclosed shelves. It is mostly made from different types of woods depending on the durability and can also be made from metals especially in industrial offices.
You can decide to make your cabinet as private as possible, using locks for it. You could either go the padlock system of lock or even the normal key lock.
It is not always advisable to use the password system of lock, just in case of emergency where you have to quickly get your stored items out. Some cabinets are fixed permanently to the wall, while some can stand alone.
There are different types of office cabinets such as:
Vertical office cabinets: This is a great storage and filing cabinet which mostly have at least 4 compartments. It is great for small offices because it barely takes up space. Explore your colour options on this one. It has the ability to stand out in the room with bright colours
Office furniture Cabinet: this type of cabinet is built to with the other furniture to have identical patterns. It can house many office items that needs storage and safe keeping. Some of them have glass doors to make these items to be easily spotted. So if you don't want too many furniture in your office, the office furniture cabinet can play multiple roles for you.
Portable office cabinet: they are as small as a chest but has the main function of a cabinet. They have rollers to help the user move them at will.
Vintage office cabinet : this is one of the biggest types of cabinet we have. It have multiple spaces but these spaces are usually small and can only accommodate items with small sizes. So if you work in an organization that deals with keys or even letters, this is great for you. It is made from wood (oak wood).
Plastic cabinet: It is made of light plastic fibres and not usually necessarily heavy. It can also come in different fun colours.
CUBE STORAGE
Cube storage was given the name because of its cubic look. It was just recently incorporated into the modern look but is not as strong as the shelves or cabinets, neither does it have doors. It aids clear display of organized office materials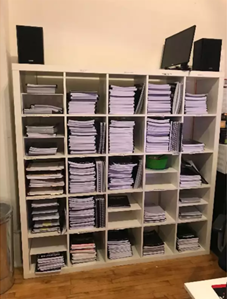 FILING CABINET
Filing cabinet is under the storage sets. It is an office furniture that has drawers to hold files while they are arranged vertically. The reason they are called filing cabinets is because they are specifically used for filing unlike the regular cabinets that holds any type of documents, file or even light books.
Have you thought about how you would like your office Furniture to look like? Or how stylish you want it to feel. These lists should help you. Before you pick any colour always make sure you consider the wall's paint or design.
It is also possible to create your own designs. All you need to do is share your ideas with the furniture company and give them your beautiful vision and they would bring it to reality. It's your office, make it your haven.
What do you think about this Office Furniture Design? Please, drop your comment and if there is anyone I ommited you can drop it on the comment box below