Why Dinning Table is so Important in your home? There is nothing like gathering in a spot in the midst of people you care about, sharing something we all have in common which is…..FOOD
My favorite spot in the house asides the kitchen has always been the dinning. If magic happens in the kitchen then the magic is displayed in the dining area.
Food is a work of art, eating with family is priceless and eating with guests can be quite entertaining, but where you eat is now very important. Your appetite can either be triggered or reduced.
The most important part of the dining area is the table because that is the first thing you notice before the actual meal. Take away the table from the equation, then it's no more a dinning.
It can be very tasking having to pick out the type of dining table that would fit your home, because design is just everything. The dinning table is a piece of furniture that complements and complete the dining room.
Asides the living room, the dinning is another place guests, family and friends could have access to freely and share meals, so the type of furniture that goes into this space matters.
Dining tables are not only just for the home, they are also used in restaurants and some are used for outdoor gatherings. Because of the various gatherings we might have in our dining area, some dining tables have 2, 4, 6, 8, 10 and some 12 chair arrangements depending on the size of the table.
Most people choose the number of chairs and size of dinning tables according to the size of the family alone. You should note that the chair designs depends on the design of the table.
We want to show you the different types of dining tables we have and help you select the best there is.
To add beauty and colour to your dining area, you can consider using hand crafted pieces or purchased pieces, but what whatever you do, do not overdo your dinning area decor.
Examples of decor pieces that can be used are: rugs for your floor which should accommodate all the legs of your chairs. Center table pieces (could be plates or jugs too)
There are six commandments of choosing a dining table
COMMANDMENT 1
GO FOR WHAT MAKES YOU COMFORTABLE
COMMANDMENT 2
GO A LITTLE BIGGER: if you are a family of four then you could add one or two chairs to your table just in case the family gets bigger.
COMMANDMENT 3
GO FOR A LIGHT DINNING TABLE IF YOU HAVE A DARK INTERIOR DESIGN OR ROOM
COMMANDMENT 4
CHOOSE A ROUND TABLE IF YOU HAVE A SMALL SPACE
COMMANDMENT 5
THERE SHOULD BE ENOUGH SPACE FOR LEG MOVEMENT.
COMMANDMENT 6
DON'T OVERCROWD YOUR TABLE WITH EITHER DESIGNS OR ORNAMENTS
There are certain things to consider when choosing dining table which are:
BUDGET
There are different types of dinning tables with different price range, depending on what they are made from. So it is important to know your money boundaries before making your pick.
SPACE
The space you have in your home will determine the type of dinning table you get. As much as possible, you don't want your dining guest to have to squeeze each other in to eat. So the first thing is to take the measurement of your dining area. Get a tape to measure the space where the dinning table should be
CAPACITY
This refers to the amount of people the dinning room can take. The capacity will determine the shape you will pick. Tables can be divided into styles, shapes and materials
DINNING BY SHAPE
These Are 5 Types of Dining Table Shaped
ROUND DINING TABLE
The perfect thing about this type of table is that it is able to accommodate different types of spaces without choking you up the room. It always seem smaller. It's curved edges helps to manage the space area.
Even though it helps you manage space, the size of the room where it will be placed should first be put into consideration. If you decide to go for a five (5) person seat, then the table should be around a diameter of 120cm and if you are going for an eight (8) person seat, then the diameter will also be 150cm.
The round table is usually used more often in restaurants/eateries, it makes it easier for those around it to be able to pass food items around without having to go through too much stress while doing it, that is why some people would prefer this in their homes in case of game nights.
Sometimes it is most preferable in homes because it helps you maintain eye contact and keep everyone in a conversation.
FREE-FORM
The free-form dinning table is simply a dinning table with no specific shape to describe what it looks like. It can even be the combination of two or more shapes e.g. rounded triangle, rectangular oval table.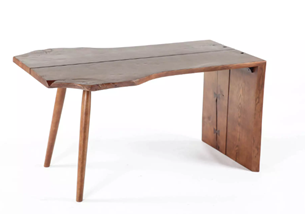 RECTANGULAR
It works best for a longer and narrow room and is a very convenient table for homes with large families. The rectangle dining table even though sometimes might occupy space, it leaves room for enough dish to be set on and playfulness, thereby accommodating a wide range of dinning guests. It also comes in a wide variety.
SQUARE
This is one of the most common and simple types of designs we have in homes today. It comes in different sizes that can easily fit any dinning room. Most times, large families do not do for this type of table because it might end up not accommodating as many people as it was intended to accommodate. It gives room for a very more intimate gathering.
OVAL
Just like the round surface, the oval surface allows enough space. It's popular in diners and homes with not so large families.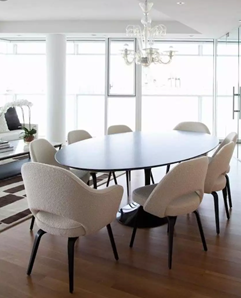 DINNING BY STYLES
Dinning tables are also known based on their styles. Some of the dinning table styles include::
RUSTIC
Before you can ever notice the chairs, you'd always get attracted to the tables first and the Rustic dinning table is a very attractive type. It gives the furniture an old look and you can almost see stories round it.
MODERN
It has a graceful and modern feel. They usually have sharp edges. These tables comes in different types of materials like glass, wood, marble the only difference it has is it's design. It usually has a light colour to give an airy element for your dinning room.
CONTEMPORARY
Contemporary style comes in varieties of look. They come in different materials
TRADITIONAL
Traditional dinning tables are the most detailed dinning. Wood are used to make them, enabling the carvings to give a beautiful design. These designs last long and are timeless. To make this type of design even more remarkable, the family's crest/symbol can be engraved on it.
INDUSTRIAL
This look is inspired from a factory themed design. It is designed to look like factory machineries, likewise the tools
SHAKER
The shaker style is known by its simplicity and distinctive look. Mostly made from wood. It is common in small simple homes where they would rather not go
DINNING BY LEGS
Dinning tables can also be classified according to their legs. The type of leg you use for your dinning will be determined by the space you have in your dinning area. Some of these legs are just attractive by their looks and they give a vintage look
1. PEDESTAL BASE
2. FOUR LEG BASE
3. TRESTLE BASE
4. SAWHORSE BASE
5. CROSS-LEGGED BASE
DINNING BY MATERIALS
Dinning tables can be classified based on the materials their made from. Some of these tables are different from each other. While some are easier to clean than the other, some last than the other.
So before you make your decision on what type of material to go for, consider the materials that is not money consuming, durable, easy to maintain and that last long. Looks are great, but trust me, you don't want to be changing your table every year, except you like changing into what's in vogue frequently.
1. LAMINATE
The Laminate table has a multi-layered construction surface which allows it to be appealing to the eyes.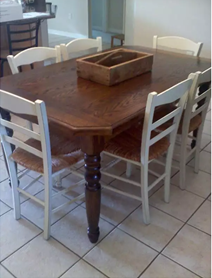 2. GLASS
You would mostly find the glass dinning tables in modern homes today because it gives a very elegant and visual look making the feels and anything under the table accessible to the eyes. But it is very fragile so when handling it, you must handle it with care.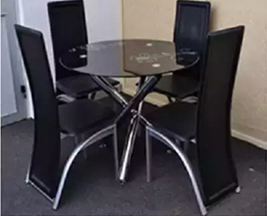 3. WOOD
This is the oldest material used in furniture making. Wooden dinning tables could have a lasting effect but depending on the type of wood that is used. That's why it is very important to go to a very efficient carpenter who knows his ways in the wood market.
Some wooden dinning tables come with shelves for storage, especially if you are the type that doesn't like to see things on the dinning table. You could store your table spices, your sugar and candles.
4. MARBLE
Marble is popularly known to be used for kitchen counter top. it is a very expensive type of dinning table because of the material it is made from but when it comes to a lasting effect, then the marble dinning table lasts long. It's durable and easy to clean, giving your living room a cool and elegant look
5. TILE
Weird right? Tiles are commonly used for flooring and has advanced to being used for walls. Its no surprise that it's now being used for dinning tables. It usually comes in detailed designs and textures. Just like the marble surface, it lasts long and is easy to clean.
6. DINING TABLES MADE FROM METAL
The reason most people go for this type of materials is because of its ability to resist stain and it being easy to clean. It's a dinning table where people eat, so you will expect to find all sorts of crumbs drop on them. The metal table surface helps limit the amount of cleaning that'll be done there. It could be used in a contemporary themed home design.
After determining your budget and deciding what type of dinning you are going for, you also decide what colour would complement the dinning. For designs like Rustic designs and some wooden materials already have a fixed look because of the type of woods they are made from.
So it is better to polish them and leave them the way they are. The type of colour you pick will be determined by the colour of your interior. You should avoid colour blocking.
For homes with dark interior paintings, you must make sure the colour of your dinning is lighter to balance the feel of the home. With these directions, what type of dinning table would you like to go for?