Shopping for new furniture can be very tasking and frustrating, especially when you don't even know the type of furniture you want. Choosing sofas will require you to know the types we have in the market.
Sectional sofas are one of the best types of sofas to go for. It is neither local nor modern but can be used in different home themes. The first thing that comes to some of our minds is that "what are sectional sofas"? Sectional sofas are composed of two or more independent pieces that may be arranged in a number of different positions.
The pieces of a sectional sofa can be used to create a traditional L shape conversion area to single multiple sections. In some cases, they are a two (2) piece set of sofas that can be arranged to form angle ninety degree. This includes a seat cushion which is paired with a back cushion.
It is very possible to create multiple sections. Many of them consist of a set of three to seven pieces that can be arranged in different ways. They are very common in many living rooms today while there are some specifically designed to fit family rooms and enclosed porches while their composition varies from one design to another.
Some offices make use of this sofa because of group conferences or meetings. Though the design of and fabric options are limited to few choices, you can as well explore the different color and styles available that will work well for your living room design.
It is also known as a FAMILY SOFA OR PRACTICAL SOFA.There is sectional couches that have cushions that can easily be wiped with soapy water.
We have three (3) types of sectional shapes which are;
Curved shape
L-shape
U-shape
Sectional sofas come in different styles like;
Mid-century style
Transitional style
Traditional style
Modern/contemporary style
The materials/ upholstery used in making some of them are;
Polyester
Cotton
Velvet
Microfiber
Faux leather
Chenille
Genuine leather
Twill
And wood which depend on quality also. Some woods last longer and look smoother than the other.
The couches often fit through entry doors and can be transported easily.Moving the individual pieces can be made easy, compared to heavy single two or three seater sofa.
The cost of this type of sofa depends on the quality of the sofa, so it comes in price range. The quality helps them to be a more versatile seating solution as compared to the regular two (2) seater couch.
Sectional Sofas in some homes have gone beyond fashion. It has extended to be used for:
Homes with small spaces
Multi-use (seater and bed)
Small corner spaces
A recliner for back pain patients.
To buy a sectional sofa there are things to consider are as follows
The first thing is to research the properties of sectional sofa: read on the different types of sectional sofas, quality, designs and have a vision of what you would go for. You can have like two to three different choices before you finally pick one.
Have a budget: this furniture's cost depends on the quality you would want to go for. So consider what you want to spend on home furniture
Then set a price range for your sectional sofa: consider if the amount you have budgeted for would cover the cost of the sofa you have picked.
Visualize the sofa in your living if it is something you'll really love to have around: visualize how the sofa you have picked will look in your home and at the corner you want to fix it.
Consider the size of your living room and take the measurement of the space where the sofa would be: sectional sofas come in different sizes and so it would be unreasonable to pick just any sofa without considering if it would fit your living room.
Decide the color that goes with your living room: it's a different thing to want to go for color-blocking, regardless, you should consider the color of your living room, the color of your rug or tiles, that will help determine the color the sofa will come in. lucky for you, sectional sofas comes in varieties of colors.
TYPES OF SECTIONAL SOFAS
There are some models of sectional sofas that come in peculiar features whereby it may include retractable foot rest or even storage pockets that can serve as rest for magazines and remote control.
One or two pieces will have armrest which could either be on the right or the left. The type of product determines the amount of pieces available. It is very economical and saves stress especially for those that live alone. You need to understand all the types of sectional sofas and consider the one that:
You like
Is affordable
And the one that can fit your living room.
Here are examples of some sectional sofas you might find interesting:
LOVESEAT
It consists of one or two seats but come in two different type. One is with armrest support and the other is without armrest support. This sofa is cozy and comfortable to be on.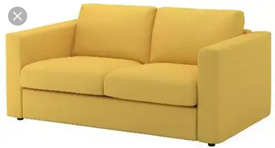 CONVERTIBLE SECTIONAL SOFA
This type of sofa is made with a lot of storage space underneath which is a good alternative to store things creating enough clean space and is composed of multiple pieces. You may have a space issue; it is a great piece of furniture for both small and large spaces. They are fixed at the corners of whichever room you place them and in large spaces cohesive unit to give a firm look.
This is a practical design that enhances the look of the living room. It is great for those who like giving their living rooms a different look every once in a while because they are easy to take apart and move from one place to the other. Curved sectional sofa can accommodate as many people as can be accommodated without having to be stuck at the corner of the room.
STATIONARY SECTIONAL SOFA
You have to be careful so as not to mistake it for a modular sectional sofa because it is very identical and it also comes in a fixed shape and pillow. It is a four (4) or five (5) seater leather fabric sofa and is able to accommodate as much people as possible.
Comfort is a big part of this sofa, so Napping on it wouldn't be a problem, you don't have to be afraid of scattering the cushions. Stationary sectional sofas are only good for large living rooms because of its size.
This is a perfect option for those with only one bedroom and often has guests around. It is a multi-use sofa because it has a folding bed with it. You can use it as a sofa for guests by day and as a bed for your guest by night, because they are very comfortable. Or even have a lot of sleep overs.
The pillows are made up of pollster materials which are wrapped in leather framing which makes it very easy to wash.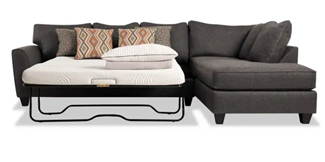 MID CENTURY SECTIONAL SOFA
Hey are identified by their thin legs and a tufted button back. This type of design makes your rooms look like it has enough space than it would usually have and seems more lightweight to the eyes, it gives a more open and airy look. It can accommodate at least 4 or 5 people on it.
These are best for homes with modern or contemporary designs. It has three to five different sectional pieces which be either be used individually or joined together and be used as a single piece of furniture.
Some of the sections can be used as stand-alone pieces. They are very light and can be easily moved throughout the house and very comfortable.
This is a comfortable modern sectional sofa which is best for those having small spaces. It is called the L shaped sectional sofa because it is arranged in L shape designed with a decent height. It usually comes with one arm and has a hardwood frame which is very solid.
Many people have a common problem when sitting down which is back ache which is not necessarily from sitting but could be from working, a busy lifestyle, ailment or due to old age.
So we would like to show you a very perfect furniture which is the RECLINEER SECTIONAL FURNITURE. It is very comfortable that it is good for resting and reading and perfect for relieving back pain they come in various designs.
You can consider this family type of couch for family and friends hangouts and movie nights.
COCKTAIL OTTOMAN SECTIONAL SOFA
Cocktail ottoman sectional sofa comes with different pieces but unlike other types of sectional sofas, this one comes with two armchairs, three armless chair, one corner chair, an ottoman table.
If you like, you can always change directions and positions. The seven pieces of sofa can be arranged according to your specification and they are fixed in a position to avoid movement when anyone sit on them.
The cushions are wrapped in linen coverings and are easy to remove for them to be washed.
CHAISE SECTIONAL SOFA
This type of sectional sofa comes in different styles. Some designs have the chaise on both sides while some carry the ottoman design. It provides ample seating and offers versatile structure. It is a perfect type of sofa that's good for relaxing after a very stressful day. They are very soft and comfortable.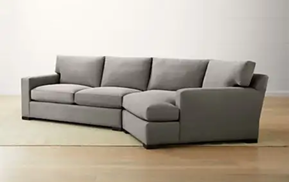 You might be wondering why you should still go for this type of sofa in home. Here are some cool benefits of having this type of sofa and they include
They can be separated in pieces when you have to move them to top story buildings or if you move around a lot.
It cans easily the fit the size of your apartment.
They are not as heavy as the regular two to four seater couch.
They can be styled in different manner to achieve the modern or stylish look.
They are cost effective.
Some of them come with footrest or storage pockets (that's an additional benefit)
After having to explore this beautiful furniture. Have you fallen in love with Sectional sofas already? All of the great tips given above will be able to guide you in making the best choice for your home or office.
After following the tips, you can make your pick from the types of sofa we have arranged for you. After you have decided on which of the sectional sofas you love, contact Lebanon Cedars and we would give you the best designs, best colors and best living room you can possibly imagine.