A home without a kitchen is just like a body without any organs. Who doesn't like food? Lebanon Cedars has come to realize in the process of working with their clients that while most people have a clear vision of how they want their kitchens to be.
Quite a number of people still cannot conclude or even know what they want in their kitchens and how to choose the type of kitchen their budgets can carry and go for any material that is introduced without considering the durability and the amount of convenience the materials would give.
HERE ARE GREAT TIPS FOR YOU
BUDGET
Glamour comes with a price. Before you begin to pick the type of kitchen setting you want, you first have to count the cost. The first thing is to decide how much you are willing to spend and have that at the back of your mind. This will guide you on your pick.
YOUR NEED
What are the things you want to see in your kitchen, what are the things you want to store in your kitchen? To choose the type of cabinet you want, you have to first take stock of what you have and what you would like to put in storage.
This is will determine the type of cabinet you want fixed in your kitchen. This will also determine your speed and efficiency while working in your very own kitchen.
If you are someone that loves a very clean and tidy kitchen, then you need to go a cabinet and drawer organizer e.g. twin ladder, pot rack, telescopic ladder, saucer and tea cup rack.
If you want a clutter free worktop/kitchen top then you would want to go for wall organizer such as midway set, this is a great way to create an instant storage especially for your utensils and other kitchen essentials, giving you enough room to maximize your cooking tricks.
With all of these put together into your kitchen designs, you will have a very enjoyable workspace. It is important to only store what you need, all other things should go into a different storage.
YOUR KITCHEN SIZE
After taking the step two, the next step is to consider your kitchen size. Will the size of your kitchen accommodate your desired design style? Compared to other foreign countries, most of the kitchens in Nigeria are very small, we must therefore be able to maximize the use of the space we have.
There are two basic sections of kitchen cabinet namely the base/floor units and the wall/upper units. There is a third section of kitchen cabinet which is the Islander but it is not popularly known, it stands alone at the center of the kitchen. The other two kitchen cabinet are explained as follows:
The Base/Floor Units
It is the basic part of the kitchen cabinet where we have the kitchen top sitting and most of the meal making is done on it. It is known as the largest cabinet and therefore it houses big utensils such as pots, fridge (this varies because it also depends on the size of your kitchen), pan, microwave, gas cooker, dried goods etc.
Most of the kitchen accessories are attached to the cabinets. The size of your kitchen and your cabinet will most definitely determine the units of base floor you will be able to have.
The width is usually 535mm
Slab/kitchen top/worktop is usually 600mm.
You will need to determine which part of the kitchen you think the base floor will fit the most. You could also decide to make use of the four walls of your kitchen for the base cabinet or just three ("u" shape), then can also decide on just 2 ("L" shape.
If you have a very large kitchen then, you could have as many units as you desire but if it's small, then you most definitely have to reduce the number of cabinet units or you'll just end up with a choked up kitchen with limited space to work.
Wall/Upper Cabinet
The cabinet is like the showcase of the kitchen beauty with its minimal addition which allows the display of different beautiful and neatly crafted designs.
It is the combination of materials brought together to define its beauty. The wall units' helps in the storage of important kitchen items and having a glass for its door could give you the opportunity of displaying your beautiful expensive kitchen utensils, especially if you are the type that always has friends around, they would be totally dazed at the splendour.
In Europe, the wall cabinets are as deep as 13" to accommodate their big sets of plates, while in Nigeria, the standard depth of wall cabinets is 12" but if the client requests for a 13" deep wall cabinet, we give them what they want.
Having a 14" deep cabinet might be intrusive and obstructive especially when working at the counter-top. It is mostly preferable to have a wall unit wherever you have the base floor but the cabinet constructor would have to make sure that there is a perfect harmony or balance between the base and wall units.
These units of wall cabinets can be reduced if the size of the kitchen cannot accommodate it, to avoid the kitchen being choked up. You need your space to work.
The Islander
If you are looking for additional space and worktop, this is what you are looking for. Islands serves as a great strategy to add convenience to your kitchen as well as functionality. With the islander, there is an opponent to sit down and have a convenient space to explore your cooking skills.
They come in different designs and sizes which will solely depend on the size of your kitchen. The islander can be usually as small as 1ft by 2ft and at other times be as large as 6ft by 8ft and more along with their varieties of shape according to the client's specification. We have the rectangle, oval, round and the square shape, along with other shapes to explore.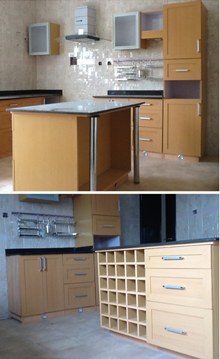 THIS CABINET CARCASS/SHELVES/BOX
You could just refer to it as the cabinet's backbone. They are known to carry the weight of the cabinet and are made to be very solid. Its strength and alignment determines the extent of the durability of your cabinet.
The wall rail should be at least ¼" and should not be more than ½" in thickness.
The structural rail also should be ¾" and the shelves could be around ½" or ¾" in thickness.
Materials for Cabinets Box
The materials for the box includes medium-density fibreboard (MDF) and also oriented strand board (OSB), marine plywood, laminated plywood and the most interesting part of all, is the plywood with dado or mortise joints (even though some customers are not willing to wait for the time to put together a professional work), along with wood corner braces for its rigidity.
We at Lebanon Cedars prefer to use plywood to make our box rather than making use of MDF or OSB. You may be wondering why.
This is because plywood is more water resistant and stronger than MDF and considering the fact that water is the number one factor we cannot do without in the kitchen, and most kitchen water system pass through the cabinet and can leak from time to time so the best option to save you cost and maintenance is plywood.
It can either be bought or also buy laminated ones, the laminate (Formica), and fix the laminate on the plywood. It is preferable but can be time consuming and difficult.
The reason is because it gives a smooth and strong surface and is easier to clean. Traditional kitchen designs usually make use of white laminate which would give the cabinet white interior. In some cases, the client could request for other laminate colors.
The shelves (a surface on which kitchen items sit) should be at least ½" thick. While making it, it should be made with the same materials as the box.
Glass shelves of at least 6mm should be used for cabinets that has glass door, especially when there is spotlight installed in the box. This brings out more beauty in the cabinet. You can also display your beautifully designed kitchen equipment on them.
THE CABINET DOORS/DRAWERS
When you go to a kitchen, the first thing you Notice in the cabinet is its doors because it is the most important factor of your kitchen. It is where the real beauty lies.
They can also be one of the most expensive things about the cabinet. It ranges from simple to elaborate and can be in numerous styles for different home designs
Types of Cabinet Doors
In this article, we will be exploring seven (7) different types of cabinet door to help you decide the one you would like to go for. But remember, whatever kitchen door type you choose will determine the type among the seven kitchen cabinet door design we have here.
Shaker Cabinet doors: It is named after its distinctive Shaker furniture style which makes use of simple, clean lines and emphasizes utility. The shaker-style cabinet door is a very common door style in kitchen designs.
It is a five-piece flat-panel style cabinet that has a frame which is made from four pieces and a single flat center panel for the fifth piece. These types of doors became popular because of the simple style it processes, with simple decor.
It can be used in contemporary to traditional home designs, with variations in wood types, different stains, hardware and paint colors (handles, knobs, hinges etc.). the budget options of this time of cabinet door is not limited, it can work with whatever budget you have fixed depending on the type of wood that is being used.
The centre door panel can even be replaced with a more cost-effective material. The finish could either be natural or painted.
Louvered Cabinet Doors
Horizontal wood slats are typically used on windows, interior doors and furniture piece but they add a very unique architectural style to the kitchen cabinet. This beautiful unique style comes at a very costly rate. A lot of louvered doors have spaces between each slat, thus making them perfect for cabinets especially if what you want to put in storage requires ventilation to avoid spoilage.
FLAT DOOR
This is a simple but stylish type of door. The flat-panel cabinet door doesn't have any expensive detail. It comes in a modest form with hard lines which makes it a great fit for contemporary and modern interior designs. A lot of flat doors come in decorative laminate or woods.
The laminate tends to less costly and offers great varieties of colour and sheen. But you must be careful when choosing your laminate. They come in different types: HDF (HIGH DENSITY FIBREBOARD) which is the most expensive costing as much as N25, 000 per board and not very common here in Nigeria.
Then we have the laminated plywood, MDF (MEDIUM DENSITY FIBREBOARD) etc. the HDF is quite stronger and more compact than the MDF, only a professional will be able to tell the difference between the two. Some cabinet makers would erroneously call the laminated plywood HDF.
It is advisable not to go for the HDF except you can import it by yourself so you are not being cheaper and given something else.
Then there is the MDF and laminated plywood. The both are very beautiful, coming in varieties of solid colours and wood grain imitations. Laminated plywood is stronger than MDF and has high water resistance.
You should also know that these laminates can be very difficult to repair when they get damaged and might even end up changing the entire door. One distinct advantage of flat doors compared to other doors is that it is very easy to clean so you don't have to go through rigorous cleaning processes on the corners, rough edges and the depths.
Panelled/Inset Doors
The name was gotten from its look. It is set inside of the cabinet frame while a typical cabinet door would usually be outside. This is one of the most expensive types of door in the market.
It therefore has a classic look that can last for generations. It often designed with the exact measurements so as to fit precisely inside the frame, enabling it to open and close at will even when the wood contracts and expands. This type of door doesn't always require exposed hinges.
Bead-Board
The centre panels of the cabinet doors has the look of a traditional bead-board panelling. It was used as decorative wall treatment before plaster in time past, before drywall and paint became common. While all-white bead-board cabinetry has a way of giving your kitchen a bright and clean feel. It is difficult to clean when it begins to have little cracks and crevasses on the doors.
Thermofoil Door
This type of doors are moulded out of MDF (medium,-density fibreboard), wrapped in plastic-type coating and it is baked under intense heat which creates an impervious seal.
Then are also known as acrylic MDF and come in wood grain imitation and solid colours. It has high durability but if you want the goods ones, they can be very costly. Thermofoil doors are very difficult to repair when they are damaged. Some lighter colours can turn yellow with time when it is exposed to heat or sunlight.
There are a number of fake thermofoils MDF in our markets today. They easily peel off and the coating cracks when it is being used. That is why care must be taken to ensure you or your cabinet maker buy from a very good and reliable company and not from Mushin.
Custom door
There are times where by you can barely find any door style that suits four need or compliment your door style, then this is perfect situation to design your own style by combining two or more style from the already listed types of doors we have.
You can build your own personalized door. For example, the shaker-style cabinet door's four frames can be easily combined with a centre panel of corrugated metal instead of wood for an industrial and utilitarian look that can last for years.
CABINET HARDWARE
The cabinet hardware includes the cabinet handles, pulls, and knobs. It is an accessory that complements a complete room style. You could see it as the hat, shoes and handbag of the kitchen or any other part of any room.
The knob and pulls you choose has a great impact on your space or bring in a different style to make them work. For instance, the simplicity of the simplicity of the shaker cabinet allows them fir into numerous different types of design styles.
Traditionally, we use knobs for doors and pulls for drawers. But what is the purpose of a beautiful knob if it doesn't fit into your hand to open and close a compartment easily and if knobs doesn't work for you, then try to use pulls on everything.
Go for the hardware that feels good to use. While choosing them you must remember the type of maintenance your hardware requires. While some easily rust like the knobs and pulls made from brass.
That is why you should go for the handles made from wood, aluminum glass or other sophisticated materials. Textured pieces are also more difficult to clean and some finishes (e.g. brass) require more upkeep.
Types of hardware
Knobs are plastic (sometimes comes in glass) covers that serves as a gripper. They come in different types and for different functions. They can be attached to cupboards and sometimes drawers. It makes it easy to open and close at will.
Different types of furniture with compartments and different types of handles. We have the kitchen drawer handles which can be different from bedroom drawer handles, we also have cabinet drawer handles, chest drawer handles, dresser drawer handles etc.
Hinges are like the joints of doors. It consist of two plates joined by a pin which helps both plate to turn freely. There are a number of forms of hinges which includes: flush-mount hinges, torsion-spring hinges, double-acting hinges and piano-type hinges.
They are steel bars that aids opening and closing of a compartment section. There are pulls for some specific types of drawer. Pulls are mostly used for Wardrobes.
Heat extractors are gadgets that helps in the regulation of air and reduction/extraction of heat. It is mostly used in the kitchen where there is frequent cooking making airflow better and conducive.
Just like a telescope, it is a ladder that can be piled/stacked together. It is good for home renovation, high window cleaning, home construction etc. and can easily be stored storage spaces without taking much space.
A pot rack is basically used to store or hang cooking. We have different makeup of pot racks which includes wood, steel, wrought iron and few other material.
It helps the kitchen look tidy and not packed with pots. Most times, the pots are stacked in each other, the bigger pot would house the smaller pot especially if the pot rack isn't big enough.
It is a storage for spoons. Just like pot rack, it is made from different types of materials. Unlike the pot rack where you can both hang and store on, the spoon rack can only be used to hang spoon or store in. they can also house big cooking spoons.
It can also be called spice rack. It is used in place of kitchen drawers sometimes or for people who love their spices to be close by while they cook.
KITCHEN WORKTOP
You know that area of the kitchen where the first phase of cooking is carried out like your chopping and slicing and cutting, that's what we refer to as your kitchen worktop.
You mustn't rush into any early decision with this because the kitchen countertop is a very huge decision to make both in cost and longevity. They can add colour, texture and interest to any scheme.
Just few home owners are willing to pull out countertops that are few years old just because they do not like the counters anymore. You should note before you make your decisions that disposal can be very expensive and the replace is even more expensive.
So once you decide to install the countertop, be ready to live with your choice for a while which underscores the importance of getting your kitchen countertop choice right the first time.
It was back in the days when a laminate kitchen work surface in varieties of colours was the only choice. We now have varieties of worktop materials to pick from. We have the classic stone to the cutting-edge stainless steel and the rustic porcelain, minimalist Bauhaus-looking concrete, wood and laminate.
They each give a distinct look to the kitchen but whichever one you choose to use, there's a degree of maintenance that is involved. Countertops are therefore divided into six (6) groups namely:
STONE
They are one of the most expensive type of worktop materials. They give your kitchen that air of luxury feel and is a classic product that lasts longs. Making use of this type of material allows you to have it crafted and streamlined.
Making space for a hole which is used for sink or grooves for draining board. It is divided into two which are: Quartz and marble.
QUARTZ
This is a man made material with Very hard wearing and it is available in a wide range of colours which has a mirrored-fleck. Its thickness is in 20 or 30mm just like granite or marble and comes in a range of edge details such as beveled edges.
Quartz has added benefits of an active built-in anti-bacterial protection making it very hygienic. It also has a high resistance to stain and scratch but extra care must be taken and always make use of chopping boards and trivet just in case.
MARBLE
Marble worktops are beautiful addition to any kitchen and are available in choice materials, maintaining a natural look but it needs extra care. The marble can easily be bleached by some chemicals and surprisingly fruit juice.
But before you decide to go for the marble for your kitchen, get a small piece of it and pour vinegar on, whatever happens to it when the vinegar touches it will be what you should expect to happen to your kitchen top when in use.
GRANITE
There are very popular in the market, strong and durable. The prices varies as there is a sliding scale in cost and in quality. Many people would love this type of material because it has a lasting look.
So no matter what you do to it, it always maintains its new look. There is little need for maintenance as compared to that of wood but also needs to be looked after because it can easily stain or even scratch so you should make use of a chopping board and trivets with hot pans.
There is a constant fear that granite counter top can cause cancer. It is only a speculation and not a fact. I have seen people who have worked with this material for years, cutting, sanding and oiling granite with all its dusts with no cancer related issues or other form of sickness.
It is just a marketing stunt by new counter tops marketers to get you to go for other products in their care. So it is not in any way scientifically proven.
CORIANS
It is also known as acrylic counter-top and is a ma-made product made from either pure acrylic or a polyester-acrylic mix. It can be formed into one long streamlined run of worktop to perfectly fit your kitchen to the precise size.
This type of material comes in different colours and textures that resembles and mimics plastic (a solid colour such as orange looks incredible), or flecked stone. According manufacturers of this product, it is stain and heat resistant.
The beautiful thing about it is that if by mistake it gets to be slightly stained, you can lightly sand it out. Unlike other products, if there is any damage to any area, it can be removed and a new piece fit in.
WOOD
This is one of the oldest types of counters and has still been in fashion till date. Today we now have woods in varieties of colours to choose from which includes more exotic and fashionable darker woods.
They are beautiful for the first week of installation but with time when it comes in contact with heat and scratches from it being used can make it tiresome.
The disadvantage of using wood is that it has a high maintenance cost. The area around the sink which often comes in contact with moisture, can bring out mould if not sanded and oiled often.
It has the ability to withstand the heat which comes from pans, the daily bashing from chopping and the scrubbing that comes after cleaning of food stains.
When you are looking for a very hygienic worktop, wood is hygienic because it contains antibacterial agents. You have to treat your wood every few months with good oil which soaks into grains and helps repel water and staining to help it maintain a more polished look.
Take note that for a traditional kitchen, it is best to go for beech wood, oak or maple and for a modern refined look, you should go for wenge, bamboo or iroko. The maple, oak, wenge and bamboo has to be imported while you can always come across the beech and iroko, readily available for sale.
GLASS
If you love the contemporary kitchen and colour, then the glass worktops is just for you. For this contemporary look, glass work surfaces can have lights fitted into them.
Glass worktops can easily incorporate under-mounted sinks, integral sinks and drainer grooves. They are available in a range of colours and they are non-porous which makes them very easy to clean and most importantly, they are very hygienic.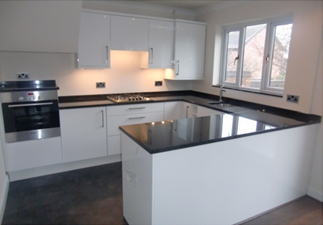 You should unsure that you avoid scratch because they have the tendencies to scratch easily. They are not heat-resistant. Because of its transparency, joints are visible and gather muck. It is advisable to go for this when it's for show than used for heavy use.
CONCRETE
This is very rare and so I am yet to come across a concrete worktop manufacturer. I know it is an upcoming worktop that will be accepted in many homes with time. It is usually poured on site, finished, polished and sealed. Nut it is an expensive but aesthetically beautiful minimalist worktop surface.
You deserve to have all the beauty in your home and make your kitchen stand out. That is why we are here for you to give you your dream designs and work with your ideas. Lebanon Cedars is just a dial away from your perfect kitchen advice and setup.