MY BEDROOM DRESSER, MY BEDROOM CHEST
"Stella wandered into my dresser to look for my darkest secrets because she knew my dresser possessed everything I owned. Only for her to find all my clothes neatly stacked together. My only secret was that I was the neatest man alive, now she knows my darkest secret"
The couch may make a home, the antique wooden center table may give the beauty it requires, the wall decor may give a warm colour, the slippery Italian tiles neatly assembled could give it a welcoming feel but until you have a dresser or a chest of drawers in your bedroom, you may just end up with a very messy home.
Everyone has an imagination of their dream homes, most especially their bedrooms but no one determines the amount of money they want to make to be able to afford a luxurious bedroom. What could be the difference between these two pieces of furniture?
Even though some of them may look alike, they are yet two different home furniture. So how can you just tell their difference? Even if I could, would it matter which one I'd choose? A big yes, if you are considering space.
But don't be scared because you'd get to meet these two in a bit. It is very possible for you to have a small space in your bedroom and still make it look absolutely lovely with the furniture of your dream.
These pieces of furniture can serve as either a necessity for your storage or a decor for the traditional home look. The size of the bedroom would determine what type of furniture you end up going for.
THE CHEST OF DRAWER IS YOUR SAFE SPACES
The chest of drawers is popularly called a bureau or a drawers table and the most visible and identifiable feature of a chest drawer is its narrow structure and height.
Just like the size of an actual 1940s chest, specifically designed only to accommodate few things especially for those living in a not-so-big space but still want to have a classy and organized home.
Some families would even prefer this for their kids' rooms to manage their little space and keep it organized. It has multiple parallel and horizontal drawers that is usually stacked one above each other, where some could have six, four or eight drawers depending on the type it is.
It has the ability function as a decor piece where you can stand your family's portrait, candle stands for your romantic nights, lamp stands, stacked up books you plan working on, figurines or even your scented flower vases and other simple home decors.
There are moments you realize how careless you can be with your car keys and you have to remember where they are always for you to dash out in the busy hours of the morning, the chest drawer can be your safe haven.
Its storage capacity accommodates clothing, underwear and anything you feel like keeping from folks like Stella in the quote. Sorry ladies, with all its lovely features unlike the dresser, it doesn't accommodate a mirror.
BEDROOM DRESSER
A dresser is so popular that it can be seen in almost every bedroom with large spaces. Unlike the Chest of drawers, it is bigger, wider and deeper with 6 drawers or more. It can only be accommodated in big spaces.
A dresser accommodates a mirror because of it's height, most times they are made to be at waist level, this way the mirror on it is very accessible whether you are standing or sitting while facing it. Often times they come in matching mirrors.
20 types of chest of drawers and dressers for your bedroom
There are different types of Chest of drawers and bedroom dressers. Some are known by their fixed funny names which helps to easily identify them, while others are known by what they are made of with no fixed name but a descriptive analysis of their components. So let me introduce you to a few of them.
The lingerie chest/ Semainier
It is not what it seems just like the name but could be, depending on what you would rather use it for. It's tall and deep, having narrow dressers where you can store items tagging them for every day of the week.
The name might make it seem like it's for only ladies but there are lots of advantages to this furniture for men such as the storage of your precious socks and watch collections so you could share the space. The fun part of it is that it doesn't take up so much space.
Gentle-men's Chest
The gentlemen chest is designed with the uniqueness of having its drawers paired with a large vertical oriented cabinet. It comes in styles and names. Why is it called this? Your wife may have taken the entire closet space so it has the ability to house hangers of your pants, suits, favourite shirts and other clothing.
Bachelor Chest
It can almost be mistaken as a dresser but yet has a narrow frame, shallow and low. It is a combination of single column of drawers. Most of them come with horizontal frames. Very suitable for a bachelor accommodating little home items but still needs organization.
Combo Dresser
Just like the name implies, it has a combination of a tall cabinet and a standard squat dresser, drawers, but yet it is a single furniture. This allows more storage room
Standard Vertical Chest
In the furniture world, it is often referred to as tallboy because of its height. It comprises of a double stack of drawers
Standard Horizontal Dresser
This is one of the oldest piece of furniture. It is contains two columns of drawers, horizontally oriented and has a squat profile
Tall Dresser
It's rare but its tall, it's accommodative and it's unusual.
Wooden Dresser/Chest
When you want to get furniture, we are often asked about the type we want because everyone knows what plan they have drawn up in their minds. The wooden dresser/chest is one of the oldest form of furniture in existence.
Some are considered antique designs passed from generations. They are taken through rigorous wood work for a lasting use. They also come in different height and sizes
Metal Dresser/Chest
many times people go for this type of furniture because of its weight which is not as heavy as the wooden furniture and it can easily be moved from one spot of the room to the other without the aid of a second person. It often possesses five to six drawers
Wicker/Rattan Chest
Fibres and plastics are the rarest furniture designs, yet, they can be used to craft out chest of drawers as it is light weight. It is one of the best piece to use especially in children room where you know stains are dominant because it is resistant to stain and can resist moisture.
Leather Dresser
It is made with the mixture of wood which is fully covered in leather with a textural look. It has the same features as a regular dresser with six drawers also covered in leather
Pulaski Gentleman's Chest
This option is for people who have limited items to store. It can accommodate little items like few singlet, watches, socks etc.
Home Styles Dresser
This dresser contains eight drawers. Six of the drawers are for storing any clothing items for easy access while it has two other small drawers at the top which is perfect for storing something special are something that should be kept away from every other eyes. Some of them come with keys that keep these private items sealed and inaccessible.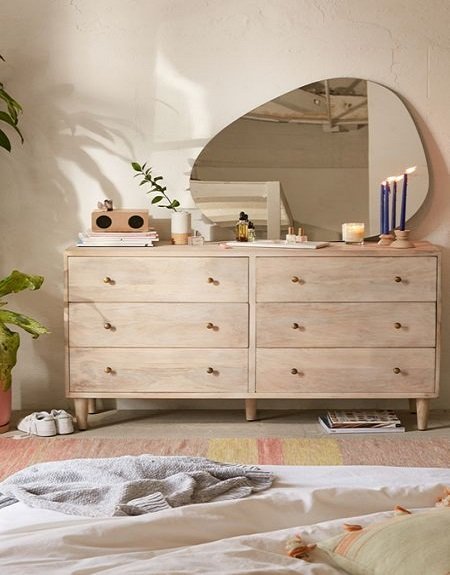 Imago Home Dresser
This is a twelve drawer dresser. It is also a couple sized dresser but not as dressers with fewer drawers so you might not be able to store as much items as you may like. It comes with an optional mirror.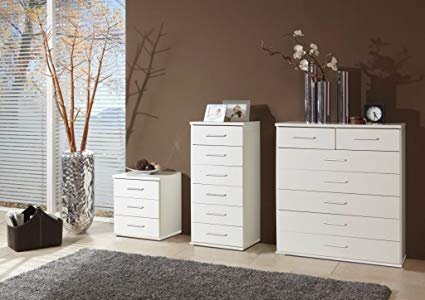 Emerald Home Dresser
It is a type of dresser has the capacity to accommodate couples items together because it is 56 inches wide, it is also a preferred choice for children's room where the kids have to share storage space.
Modern Dresser
This type of dresser came to be in existence from the early 20th century. Its designs are futuristic in nature. They look like any other dresser but has the new age designs and prints.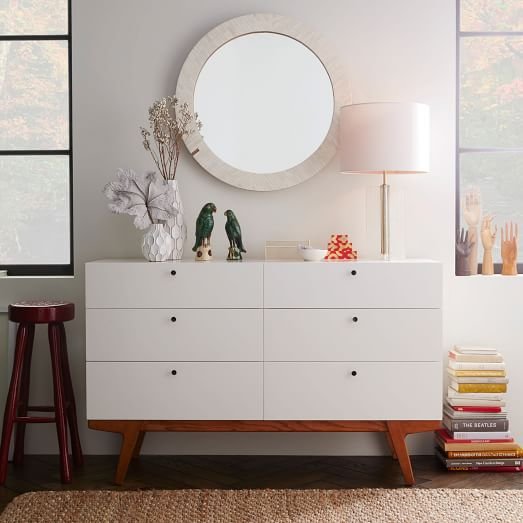 Distressed Dresser
This is intentionally done to look like an antique furniture for the love of the olden days. It is designed to look aged and are distress looking dressers.
Progressive Furniture Dresser
This type of dresser comes with strength that is gotten from pine. It is five drawer dresser that comes with perfect wooden designs with dark hardware having a 56 inch height, which can accommodate all your clothing, linens and towels.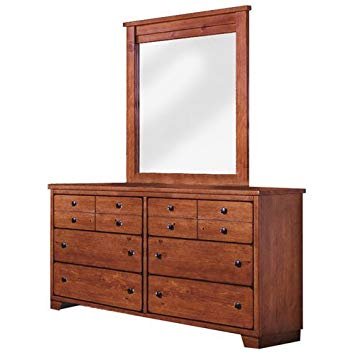 Large Vertical Dresser
It often possesses five drawers which can store anything. It is great for mostly small spaces and won't cause a great deal of inconvenience. It has a tip over restraint for children's safety especially when they try to play.
Large Horizontal Dresser
Its storage space is quite large with six large drawers that can store more clothing than usual and other items that wants to be kept away from damages. It is regarded as a farmhouse style of dresser with a modern look. It is a good complement for light colour walls.
Now that I have gotten your attention, have you thought about the one you would like to go for? There are so many types to choose from.
Whether you are a man or a woman or a woman looking for the best furniture for her child's room, asides from making your budget on whether you would go for something cheap or expensive, you also need to think about the style you want to go for, think about the type, the size and material that makes you feel at home.
And who says you cannot have both the dresser and the chest of drawers to give you the royal best looking room decor for your big sized bedroom. So where can you get this type of furniture according to your unique taste?
Lebanon Cedars International Furniture Limited offer the best interior design in Nigeria. Then again, nobody knows what you want better than you, all you have to do is have an idea of your dream home, your dream bedroom and the experts will sort out the rest to bring it into reality.
"My only secret was that I was the neatest man alive, now she knows my darkest secret. No secrets to hide, all I have to hide is my clean dresser which makes me seem like no other man"
Am sure you love this 20 types of chest of drawers and dressers? I which to make my room more beautiful than this. Do you know another thing I can add apart from these Chest and Drawer? Please help me drop it on the comment box below as I want to make sure that anytime Stella entered my room she found new things. My dream is also to have the best kitchen interior design in Nigeria