The kitchen they say, is where the magic happens. It is one of the most important rooms in the house because that's where important decisions on what goes into your belly takes.
It can also be the most dangerous place in the house because of the items that are found there e.g. your knives, your stove, the oven, your gas cooker and many more.
As much as possible, you want to have a very comfortable kitchen to avoid common kitchen accidents. You also want to make your kitchen looking tidy and neat, then the cabinets are your safe spaces.
There are a lot of factors that come with giving your beauty the needs, like the colour you go for, the lighting, the design of the initial home theme.
Choosing what type of cabinet to use for your kitchen can be tasking and confusing, that is why this article is here to introduce you to the world of kitchen cabinets in their beauty and splendour.
Your kitchen could either come in a straight line, U-shape or L-shape, so choosing cabinets can be tricky due to these shapes, whatever shape you choose, as much as possible, you want to put your refrigerator far away from your cooker.
Kitchen cabinets come in different types and amusing colours; you can have them in white, two toned, yellow, different shades of blue, red, coral pink, rose, dark brown and many more.
But our focus in this article are the different types of cabinets we have. So before you make that big decision of what type of kitchen you want to go for, why not explore your options.
20 Types of Kitchen Cabinet For Your Home
CUSTOM
The custom cabinet is flexible. It can be designed according to your specification and taste.
LOUVERED
This type of cabinet comes with horizontal wooden slats and can be very expensive. It has a very unique style with the same design you typically fine on furniture, windows and interior door.
It has horizontal wood slats which adds to the architectural style of the kitchen. It is great for storage that needs ventilation and kitchens where laundries are done.
FLAT PANEL
Another name for this type of cabinet is SLAB cabinet doors. This is a very stylish but lacks any expensive details. They don't have any frame but are just flat panel/ simple slabs.
It is a form of cabinet a minimalist (simple themed home design). This design makes it a perfect fit for both the traditional and contemporary kitchen.
So it doesn't matter whether it's a traditional home decor or contemporary home decor, and you really want your kitchen to match whatever decor you want then you don't have to worry because it just fits perfectly.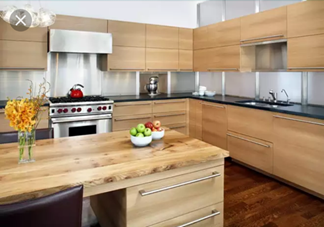 BEADBOARD
This design goes with traditional, cottage and rustic home designs. It is a very simple look for your kitchen. It is a row of wood planks neatly lined up in a vertical form.
Each of this lined up planks has a little ridge in between them. It give your kitchen texture and beauty. The little cracks on the doors can make the beadboard cabinet hard to clean.
THERMOFOIL
This type of cabinet has its doors made from medium density fibreboard and are very durable. They are usually wrapped in plastic coating then they are taken and baked under a very intense heat to have a seal.
Their woods are imitations wood and it comes in solid colours. If you are the type that wants something lasting, then it is very easy to maintain and can last for a very long time.
You don't need to be scare of moisture absorption because it is moisture resistant. But whatever you do, don't put it close to heat like your oven because it has poor heat resistance. They are beautiful and also very affordable.
INSET
Some kitchen gurus would refer to this type of cabinet as the hiding cabinet. The drawers are usually built to fit within the opening of the cabinet face frame without showing, with a perfect measurement to make it an exact fit.
It has clean line, flush doors and a look of a standard cabinet. The way it is built, there is a complete access view of the cabinet frame with small gaps between the components of the cabinet. It is very easy to customize it to your own personal look, with your desired accessories and cooking utensils.
RAISED
It is mostly used in traditional home designs, except you want to extend your taste. If you are going for this design, then you should know that it is boring without ornaments to complement the look.
The design is done with the middle section of the door raised which creates a groove between the frame and central panel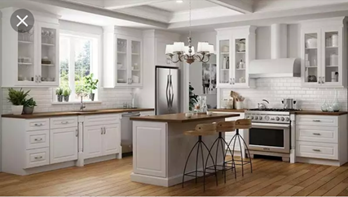 DISTRESSED
Distressed cabinet is only best for Rustic or antique home designs. More work is usually done on it to make it look distressed (worn out) and unnatural. That is the way it is supposed to look. As weird looking as it can be, most people just like the types of techniques put into this type of designs.
SHAKER
This is the most common type of cabinet. Why is it that popular? This cabinet is built with hardwood and some of its doors are made of veneer panels.
There are flat panelled doors with rail frames along with sturdy construction with quality wood. They are often designed by skilled carpenters.
They have doors with recessed panels and they are not that stylish. There is no much to be done on this cabinet, it usually comes out with natural finishing or light stains.
To open it, it comes with wooden knobs or handles. Sometimes, they are painted with distressed finish to make it look older and bring out its beauty. The carpenters always try to maintain its natural looks and because of this, hardware is usually not visible.
One characteristic that stands out is that it is made with quality wood and some of the common wood used for this cabinet is; quartersawn oak (because of its balanced rigidity), cherry, maple and hickory.
Then be of good cheer because it is budget friendly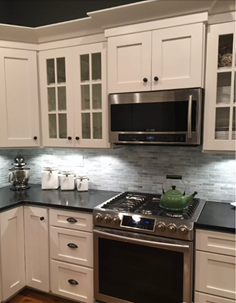 MISSION STYLE CABINET
It is defined by panel-faced doors and straight lines with little ornaments. It is commonly made from oak wood and sometimes, cherry wood. For you to get the best of this type of cabinet, you need someone who knows their way around the style. It is advisable to let it maintain its natural colour because that is the beauty of the cabinet.
FLAT
This is a simple cabinet style which has no frame and goes for either sleek modern interiors or contemporary interior decor. It is perfect for displaying a particular finish or colour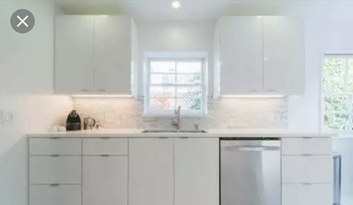 GLASS
The glass cabinet is one of the most beautiful type of cabinet we have out there, but except you like a see-through storage and are neat whereby you could always ensure that the items in the storage are neatly stacked, then this is for you.
This type of glass helps you to easily spot anything you are looking for in haste. There are different types of this type of cabinet: we have the sliding glass door and the cabinet type glass door so all you have to do is choose the one that is most convenient for you.
It is advisable to go for strong glass but if peradventure it still breaks when in use, you could always do a quick replacement. The disadvantages of this type of cabinet is that smoke, vapor from your cooking or grease could leave a visible discoloration which would require you to clean often
MULLION
This is a traditional type of look which comes with identical designs like windows
METAL
The metal cabinet is often used in modern, contemporary and industrial home interior designs.You can make your pick from the Stainless Steel to the aluminum type and when paired up with wood or glass, you have your perfect warm feel. It is very rare
MESH
This type of cabinet can be used in traditional, modern and industrial interior designs. For those who like their storage areas being visible or lik3 the idea of their storage having breathing spaces or of course a see-through storage, then this is just perfect for you.
There is a very interesting look to it and it adds texture to the look while displaying your kitchen items. Mesh is made of perforated metals to chicken wire.
There are also different types of ways mesh can be powder coated in varieties of finishes which includes; Brass, copper, Stainless, nickel and bronze. It is not the easiest to clean and if not properly taken care of, it could begin to rust and end up spoiling.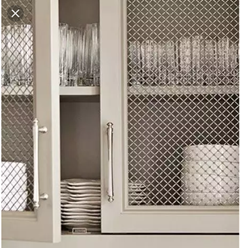 ARCH
You will often find this type of cabinet in traditional home setting but is more costly than flat panel cabinet. It is designed with the middle panel raised up slightly like and arch. Looking at it, it resembles a raised eyebrow.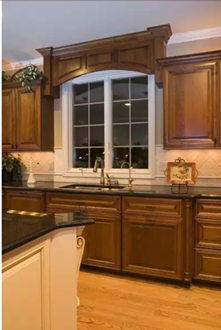 CATHEDRAL
for your traditional interior home design, this is just perfect. The name cathedral was gotten from its design which has an indented, steeper arch which resembles a regular cathedral cut, and fits homes with high ceiling.
This is not a modern design, so unless you are a lover of the old-school or traditional home setting then you shouldn't go for this, another reason you would find out is that it is hard to update.so unless this is what you want, you shouldn't go for it.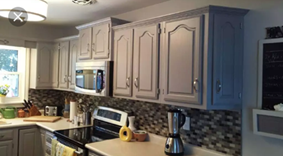 SQUARE RAISED PANEL
This type of cabinet is a very simple but elegant piece. It is made from oak woods and the doors are precisely square shaped. You would mostly find them in traditional home setting.
FULL OVERLAY PANEL
It almost has a similar appearance to an inset cabinet. Their doors completely covers the cabinet face, which provides a flat cabinet front. They come with double doors in full overlay style. Pulls or knobs can be used for the door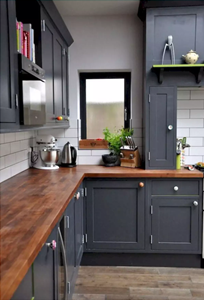 PARTIAL OVERLAY CABINET
They are the most common and least expensive type of cabinets, especially for medium or small kitchens. They are very suitable for traditional types of home designs. The doors sits on the cabinet face. The disadvantage of this type of cabinet is that it doesn't offer enough cabinet space.
It is mostly advisable to go for the type that makes you feel more relaxed in your kitchen and easy to work with. But if you are still contemplating which type you should go for or you have decided, then Of course, Lebanon Cedar Furniture has got you covered, making the best of these cabinets. You are one call away from making your kitchen the best area in the house
Is there any time you love or you have seen somewhere that is not in the list? Please, make use of the comment box below and tell us. Hope you enjoy this Article? Please, share and comment below